Students first
"Today's students are tomorrow's future". How cheesy is this classic statement? Very. However, the core is true and we borrowed the sentence and applied a couple of modifications to define what it means to us at Mews: "Students are Mews' past, present and future" – because the "founding fathers" of the tech team of Mews were still students of Faculty of Mathematics and Physics in Prague (past), currently we have several great talents in the team that combine university with working part time here (present) and in this blog I will talk about the future aspect of the mentioned statement.
When Czech Technical University (Faculty of Information Technology – ČVUT FIT) associate professor Josef Kolář approached us with the possibility for Mews to partner on a learning project for high school students CS Bridge, we didn't hesitate for a second. Recently, we've also established a Strategic partnership with MatFyz, Alma Mater of many of our developers. What really attracted us on this project was the overlap of University and high schoolers. Yes, it may not bring tangible results in the near future but companies need to think more strategically these days and being able to contribute for more (in this case 100) kids to learn the basics of coding provided a great deal of satisfaction for us.
Where Stanford meets Prague
First of all, kudos to Mr. Kolář and his team. Not only for being able to establish a partnership between ČVUT FIT and Stanford University but also for the enthusiasm, organization and care they all bring to this programme.
Chris & Karel
All the partners were welcome to come and see the official kick off of the two-week camp. Prerequisites for the attendees? To be able to turn on the laptop. Literally, it was suggested that the course is best for kids who have no or minimal experience with web development. That's why the avid lecture by visiting professor from Stanford, Chris, started with Karel, the programming language for complete beginners (BTW, did you know that the language is named after Karel Čapek, Czech novelist and co-author of the word Robot?).
Over the course of the two weeks students learned the basic concepts of programming and the content was heavily based on the Programming Methodology course taught at Stanford University. This gave Czech high school students the opportunity to experience tutors and learning methods from a prestigious US university.
The goal of the programme is not only to learn coding from a methodological point of view, but also a practical one, as the youngsters are expected to finish a group project (simple program) on the last day of the camp.
As a fast paced, dynamic company, we can actually relate to many of the attendees experiences, such as having to cooperate effectively with complete strangers (due to our rapid hiring of new talent). We always make sure that new starters bond with each other, as well as with other colleagues, the same way the students did during the programme – by extra curricular team building activities prepared by the organizers.
Back to class
A big part of the partnership was also for us to come over and and very informally (excluding for the classroom setting) share our story. I think I speak for all of us when I say that it was refreshing to remember the path we took to get to where we are now. Our main message to the young students in the audience was not to be afraid to join higher risk projects with great vision and people. Now is the time (along with the next couple of years) for them to thrive without much added risk!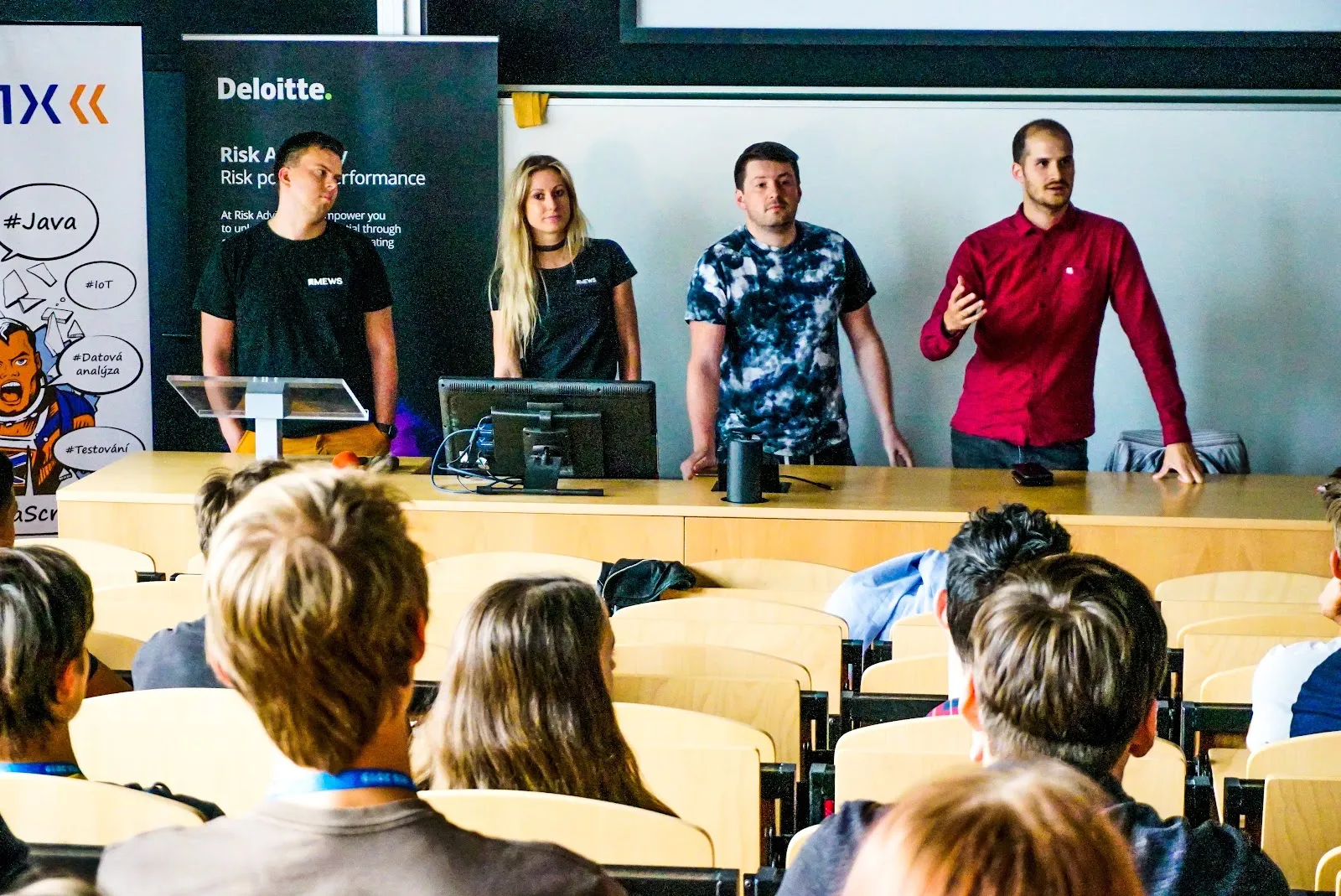 Mews and academia, what's next?
As you can see, universities, their projects and their students have a special place in our hearts here at Mews. We will continue to partner up with the two technical universities in Prague going forward, but you'll soon see us in other Czech and European cities, spreading the word that there is a company here where things are done (mostly!) right.
But don't get us wrong, universities are a great source of talent but our team wouldn't be complete without those gritty and dedicated individuals who picked up web development outside of the university system. And hey, maybe there were students in the audience that will have coding only as a hobby, but one day will join our ranks. The door is open!
Let us know if your school has an interesting project where we could be involved.