A few months ago, we as a company celebrated an important anniversary: it's been one year since we transitioned from Google workspace (G Suite) to Office 365 (O365). It was a challenging year, but knowing our people, we knew we'd succeed.
Before we talk about how things are shaping up now and the big switch, let's look at two noteworthy dates in the past: the years 2015 and 2018. Both influenced the successful transition of our company from one platform to another.
The year 2015
In 2015, I had the privilege of working in a "well-known" antivirus company where we decided it was time to move to the cloud from an on-premises MS Office infrastructure. It was a project we all hated because we knew how many things could go wrong and that it would be labor-intensive. We also knew, however, that it would be necessary to take advantage of the modern tools O365 has to offer. The team involved was enormous, encompassing all our IT infrastructure divisions and groups, as well as many testers (let's say around 20+ IT people and another 50+ for testing).
The project was designed to last 12 months, and within that timeframe, we had to make sure that our 1000+ employees were still able to work as per usual, ideally with no downtime or interruptions.
Although we hit the deadline, we spent an additional 2 months following the release tweaking and fine-tuning the entire setup – as we all know, there are always things that come up that no one could predict during the planning phase.
It was deemed a success in the end.
The year 2018
Then, in 2018, I was part of a huge pharmaceutical corporation with around 180,000 employees. Even though my project entailed something entirely different (ServiceNow implementation), I was interested in observing and knowing as much as I could about the other intriguing initiatives the company was involved in. One such project entailed a company rollout of MS Teams. I still remember joining a feedback session where the people involved in the project were fascinated by the fact that without any marketing or company-wide announcements, they managed to reach 1,000+ users signing up for testing and adoption in just the first month. This was seen as a huge success as people genuinely liked the platform and the problems it could solve. I remember being impressed by the improvements that Teams had undergone since my last encounter with it. Only a year prior, it was just something that had great potential, but the reality was still far from perfect.
The beginning of Microsoft in Mews
When I joined Mews, we were a G Suite (now Google workplace) company. From an end-user perspective, it was "the best toolset" on the market. For admins, on the other hand, it was a nightmare that lacked the basic functionalities to effectively design infrastructure without including too many 3rd party tools, which we'd eventually need in order to stay safe, automate, and create a robust audit resistance setup in our highly regulated industry.
MS Teams was seen as a potential replacement to our beloved Slack, however, initial talks with Microsoft (which predated my time at Mews) ended in disaster. The general consensus was that what we were using was already the best, and there was no need to do anything about it. Not to mention MS Teams missing "custom emojis".
So, we started to explore platforms and 3rd party tools that could help us achieve our goals. As a company that was going through a hyper-growth phase, it was vital to have a clear overview of what was going on with our data, devices, etc. One major area for improvement was onboarding and offboarding, which took up most of our time as we were hiring 30-40 people per month (±10% of the company at that time). We tried several platforms, such as BetterCloud, MobileIron, Kandji, Jamf, and more. While they're all great platforms, they each came with a price tag and the uncertainty that once we reach a certain size, it would be virtually impossible to move to another platform.
One thing remained clear – we'd never go back to having everything on-prem, using SCCM distribution of our "corporate" image, or spending big money on a team that we'd need to support, maintain, audit, protect, and train all our people in order to achieve our goals. We understood there was a better option waiting for us. An idea was brewing in our heads.
The usage before migration
Calling Mews a G Suite company would be a bit of an overstatement. It felt like the standard startup sickness – adding tools to your portfolio that are top-notch, but that don't talk to each other. They don't help us solve big problems, or, my favorite challenge, to run a lean team and still be able to push technology forward and design a clever system we can benefit from later down the road.
Microsoft has always been with us, no matter what anyone thinks. Let's start with our own product. The development of Mews is 100% done in the Azure cloud platform. This fact alone would be enough to start thinking about using MS for everything. On top of that, we love data in Mews. PowerBI charts and visuals are a drug for many of us, and our amazing data team is already demonstrating what this type of data can accomplish. An interesting insight was also the number of O365 licenses we had to distribute amongst people because, for their work, Google sheets simply didn't cut it. At our peak, we had around 40% of our users using both the G Suite set of tools and O365 (business premium).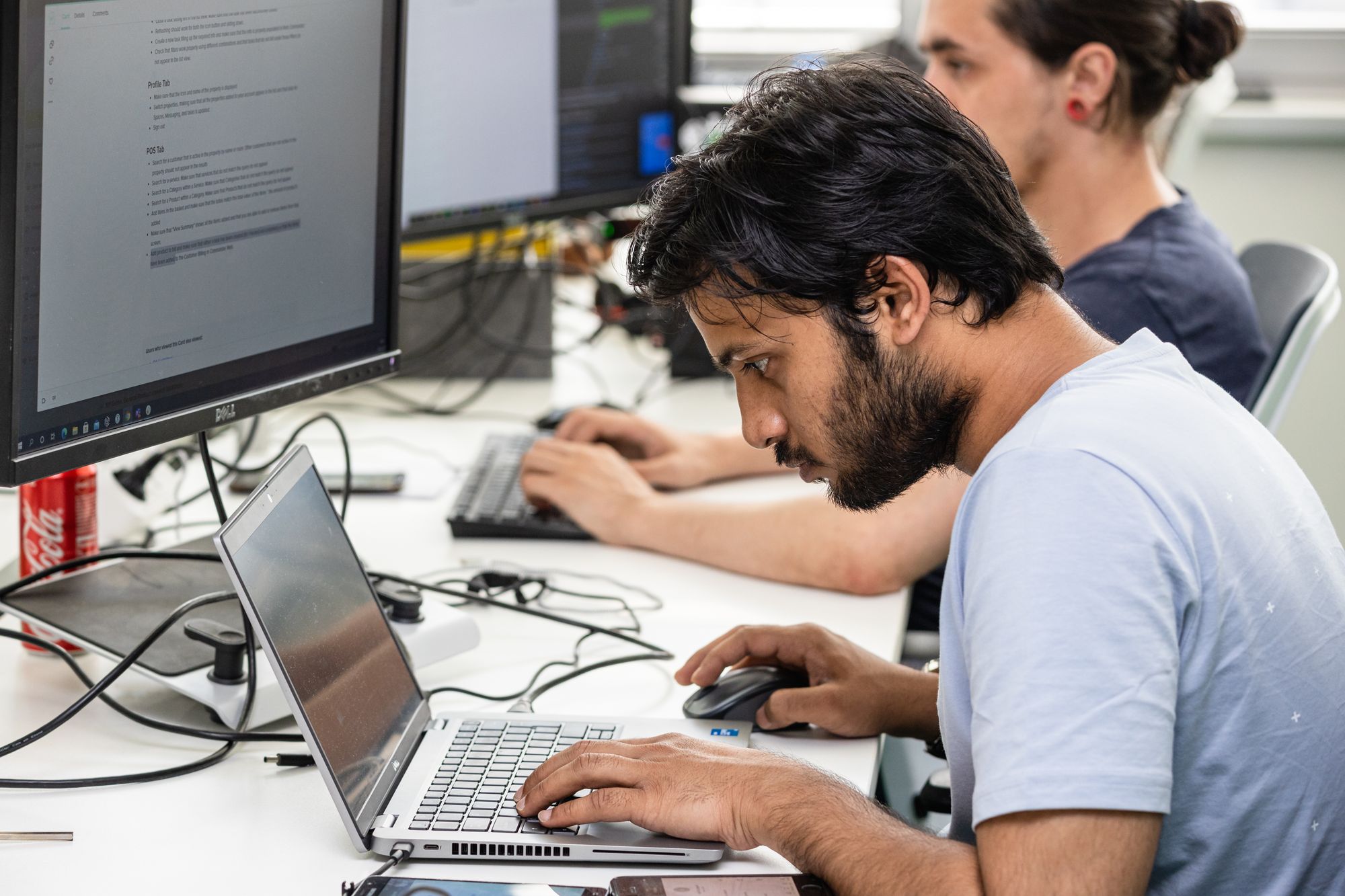 How to destroy a company in 1 easy step: change
Fast forward to the year 2020 (February/March). The pandemic is spreading throughout the world, and our business is plummeting day by day and week by week. It's now clear that Mews will have to undergo a major change to stay competitive. A very unfortunate, but important factor came into the picture – downsizing and cost-saving across all departments, divisions, and teams. Our MS plans which were once just a wild idea "for later" were now starting to shape into a real approach.
We took into account all the details and points mentioned above and put together a plan to shift from Google to Microsoft. We created a rough migration plan (which was followed almost like a mantra and was only missed by a few days, which in the planning stage of things isn't all that bad). With our 15/24 plan from Google about to expire in June 2020, we knew we had a hard deadline to meet, and we knew how much money we could immediately save if we cleverly combined different MS license models with some freebies due to our MS gold partnership. If this change would be agreed upon by our leadership, we could start preparing for the migration and the scalable future of Mews as a whole.
I started to spread this information to my peers and across all departments to get an idea of what people thought. I can divide my feedback into just 2 parts – the 1st was OK with it and saw it as an opportunity, while the 2nd was fundamentally against it. For some, bringing MS into the picture was seen as a shift towards a corporate way of doing things. Some of the responses included: "We are different…", "I've only heard bad things about this Microsoft thing…", "But we like Google!", just to name a few.
I also had to introduce this "plan" to my only colleague at that time, my friend and partner-in-crime – Michal. His initial reaction was "Jesus Christ, this will be nuts. Let's do it 😀" (For those who know him, you might know that he said it a little bit differently, but anyway…)
Leadership blessing
By the end of April, we'd gotten the green light from our leadership, and we kicked off this project that would have usually taken over a solid year with a much bigger group of people. We decided that we'd demonstrate our skills and resilience by doing this in two months with two people, so we started.
Luckily, we were never alone. We had a "migration partner" – an external company who was helping us with several backend things (mostly license portfolios and Powershell scripts to load larger chunks of configuration that we would have to do manually. This would have been a time-consuming exercise that we didn't have time for.)
Mind you, we couldn't focus exclusively on this project. We had the whole IT operation running, and on top of that, we inherited the entire Workplace team during pandemic times as well, so our time budget was very much limited.
Back then, I had a talk with our CEO about the whole project. I told him that this could easily go south in no time, but if Mews as a whole wanted to do it, now would be a perfect time. At this point, there was no turning back.
Preparation
April also saw the creation of the rough shell, which is still at our core. We elevated our AAD (Azure Active Directory) into a powerhouse where we could fetch all the resources that we'd need later. Luckily, we didn't need to create the whole directory from scratch as we already had it. Sometimes, legacy systems can be a good thing. We created an entire structure for our Sharepoint, so we'd know exactly where our data would go. One thing was still unclear – how were we going to migrate all our content without having duplicated costs on Google and MS? The pandemic actually helped us here. Microsoft was offering free licenses for students and companies that were thinking about making the switch, so with a little bit of luck, we had all our users licensed with mailbox and OneDrive so we could start with the migration part. Another lucky moment was our discovery that a little 3rd party tool called mover.io, used for migrating resource data from G Suite to O365, had recently been purchased by Microsoft. We tested it, and it worked. We tested it some more, and it still worked. We moved several terabytes, and it was still holding together.
By the end of May, we were almost ready. We had pretty much all the data migrated, and we had our Exchange/Teams/OneDrive/Sharepoint/ADD roughly in a shape that was way past MVP. It was actually working, so we were almost there.
The weekend
The 13th and 14th of June – Saturday, and Sunday – were the days when we had to perform the last incremental changes. We had to switch all the pointers, MX records, prepare a background relay to pass content from G Suite to MS, close it, and be done with it. Everything went smoothly over the weekend. Michal and I met in the office on Sunday at noon to work overnight and have everything ready for 9 AM Monday when people would be logging into their brand-new system. We started early but hit a brick wall around 2 AM on Monday. Almost all our incremental changes failed, and we couldn't figure out why. We managed to fix at least some of them, but it was already way too late at night, and we had to make a decision. We decided to use our relay and have 200 people fully on Microsoft and around 80 still in G Suite until we could patch things up.
Around 36 hours without sleep later, we found out that almost every incremental failed because of Google's settings update, which was scheduled for 2 AM on Monday – exactly our time window.
Later on Monday, the 15th of June, we managed to finally close all data migration, and it looked like we were done. Two months of work, two days of no sleep, two guys, multiple red bulls and lots of chicken wings later, we were done. We crossed the river to the other side.
Of course, there were issues. We had zero time for the adoption phase, so we were heavily reliant on our people to play with the new tools, get used to them and master them on their own. Fortunately, after a few weeks, everyone was at least familiar with it. For us, that meant a lot of Google searches for every possible user problem since we were like the English teachers in Czechoslovakia in the 1990's – always only one page ahead of their students.
But we made it. At the end of the day, the hardest part was over.
The past year and years ahead
Let's talk about the past and the future a bit more. Now that we have one year with MS behind us, we can clearly describe what this change has actually meant for us. Let's start with our users and their biggest struggle – the performance of Teams on older devices. With our incredible heavy tech stack of SaaS tools, we're pushing the limit of any device on the market to its maximum. Luckily with our latest shifts towards different HW specs, we're slowly but surely removing this problem from the equation. For us admins in IT and now also "S" (Security), it means that thanks to MS as a package, we can start preparing Device management (InTune) on all our equipment right from the start. We can use Autopilot/DEP to streamline onboarding, we can enable SSO with all our apps, and, where possible, we can oversee usage and handling of all company data. We can do all this and much, much more within just one ecosystem and one platform.
On top of that, with all our recent audits and certifications, starting with basic things like ISO norms and ending with PCI-DSS, we can very quickly adapt and pass all requirements simply by taking advantage of tools that are part of the MS family (e.g., PCI-DSS Antivirus requirement was quickly adopted by the simple elevation of our E3/Business Premium to E5 in which we're getting MS Defender for all our platforms.)
Another area where we can improve using out-of-the-box features is the company-wide Intranet, which is being investigated as we speak. Did I mention the access we have to the partner portal? This is where our commercial team has yet another stream of leads coming through.
And don't get me started on all the features that we still haven't had the time to look at—DLP, Advance reporting, all the new tools for Security, which are part of E5, etc. Yes, you do pay a premium price for E5 user licenses, but what you're getting is more than a good deal. It's one platform to unify all your company, admin, audit, security, and analytics needs, which is exactly something that we in Mews need in order to accelerate our move from FinTech startup to the real world of established enterprise brands.
Closing thoughts
There's only one thing left to mention, and that is to thank everyone who didn't give up on MS, who saw the potential, and who participated in this project. Our CTO and my boss Honza Siroky for always staying on our side. Our ITS team, which is now slowly growing – you guys rock. Michal Cada, my colleague, partner-in-crime, and friend – none of this would have been possible without you, and I'd never undergo such a crazy project with anyone else. Let's see where this adventure takes us in the future. And last, but never the least – all our amazing colleagues in Mews, you all demonstrated our core values during this time and made our job much easier!