When I had the idea to write this blog post, my main mission was to show that working remotely is something that no one should be afraid of, and I want to share some tips and tricks that I have learned throughout the last 6 years of doing it myself. This is not by any means a guide on how to work from home; it is a guide on how to enable yourself to work from anywhere. I will cover some of the locations where I've worked, tools that I use, and lastly, devices that helped me out the most over the years.
Terminology
I am sure that all of you have heard the term "digital nomad," but in case you haven't—a digital nomad is someone who's work is done exclusively online. This means you are not attached to a particular country, city, office, or (last but not least) lonely chair where you sit Monday through Friday. The digital nomad community on the web/social media is a large group of individuals and professionals with jobs that spread from IT and software development all the way to digital marketing and remote assistants for various fields. For such people, the core idea is to travel the world while taking their "income" with them. During the last several years, I observed that it is rare to meet somebody who is solely focused on their career. Instead, digital nomads are doing whatever they can to keep the lifestyle going.
Let me start by explaining what it means and doesn't mean to me to work remotely. Remote work is not working from home from time to time. Remote work is a long-term working arrangement outside your 127.0.0.1 (AKA comfort zone). Some people like to take 2 weeks of vacation twice a year, which is perfectly fine, however, I love to stay in a location longer to get to know the country and the people and to really "live" there and become a local (at least for some time). The stories and experiences that you receive are priceless and cannot be obtained from a resort with an all-you-can-eat buffet. Remote working is a state of mind where you understand and embrace the idea that the world is your home, and work is something that does not have an assigned address.
Time
Some people prefer to be "on the road" all the time. If your job or project allows that, then great! However, I have found that my sweet spot is two months away and two months at my home base because it allows me to properly plan my life and work around each other. No matter what, you must first ask yourself what your priority is. Is it to travel and take short term projects to make a quick buck? Or are you planning to travel long-term with remote work, allowing you to be 100% flexible while staying highly motivated to perform? Age probably plays a factor. The younger you are, you are more likely to be in the first group, but the older you get, you are most likely moving, or have already moved, to the second group. In my case, the second group was always the one for me.
Space
During the last six years, I was lucky to have had the chance to travel pretty much anywhere while taking the job with me. Only including locations where I have stayed for over a month, my "home-away-from-homes" include the US, Morocco, Iraq, Mauritius, Tanzania, Spain, Norway, Portugal, Italy, and Israel (to name a few). Some of these locations I visited using my favorite "office", the one and only Hymer RV. Some of them, of course, I arrived to by plane or ferry. When it comes to accommodation, I try to cover everything with AirBnb and their amazing deals for 4+weeks stays. Sometimes you can get a villa on the beach for the same price as your monthly rent in Prague ;).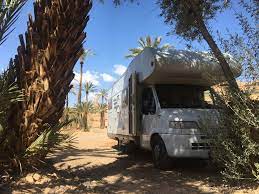 Software tools
When I am searching/researching any location, I always check the country using the Open Signal app. With this tool, you can scan any providers operating in that location and see the speed and quality of the internet. Not only will you know which provider you are going to buy once you reach the country, but you will also know which parts of the country are off the data limit on a regular workday. Sometimes it is interesting to see that the internet speed around some locations, like the Mosul region in Iraq (which in the past was the capital for ISIS), have better coverage than certain locations in the EU countryside. The more cloud base apps your company is using, the better, since these are accessible from any location (sometimes only with a VPN). So, at this point, I know where I am going, which areas have the best coverage, and which providers* I will get during my first several hours upon arrival.  (*It is always good to have a backup.)
Another good tip is to make sure that all your SW (on both your laptop and mobile) is up to date. The last thing you want is to use all your data updating your systems upon arrival. Always update at home and turn off automatic updates right after.
Pro tip: Download as many offline courses/learning modules/movies as you can. I always take some Linda/Udemy/Pluralsight/Masterclass classes with me, so I can do them offline as well.
Hardware tools
Of course, you will be packing your computer. In my case, I am using a MacBook, since the battery life is essential, especially when you are in locations where power outages are a real thing. I usually don't opt for a backup laptop, but I always carry a tablet (iPad) with me. With modern tools, you can also substitute a laptop for a tablet. With an Apple device, you can also take advantage of a pretty cool feature called Sidecar, which can turn your tablet into a second monitor.
When it comes to your mobile phone, I always pack two (an iPhone and my trustworthy Nexus 5 Android phone). One is for regular usage, and the second can be used as a backup and a hotspot. I also always take a 4G LTE SIM card modem for additional WIFI hotspot range. As for my power bank, I love the 20k mAh from Viking, which I can use to charge my laptop as well. Don't forget all the cables you will need to charge/connect.
Pro tip: I always pack my old-school Spirus "Windows to Go" flash drive—an encrypted Windows machine you can carry in your pocket.
Ending Thoughts
Remote work is not for everyone. However, if you want to change up your post-pandemic work life, it is something you can look into. With more and more tech and non-tech companies moving to a hybrid or fully remote setup, it is something that could be seen as an amazing benefit.
Try it on your own. Start by expanding your regular vacation by one week of work. See how you like it. See what works for you and what does not. Share your tips with the community, meet amazing people on your journey, and lastly – live your life to the fullest. At the end of the day – we only live once.
For any questions or tips, reach out to me on LinkedIn or Reddit @Raabta.