Each December together with the first weeks of January incite us to stop and reflect on the past and plan the upcoming 12 months. It's no different for me, a member of the Mews community management team and part of the Mews tech team. 
One of the team's ultimate goals is to make the tech geeks of Mews be seen and heard worldwide. An ambitious goal, isn't it? There are many ways to achieve this, from encouraging blog post writing, public speaking or self-promotion of our tech team members to attending the right events where we can (re)present what we do. Event choices used to be varied, encompassing international conferences, smaller community meetups, university career fairs, and more. But let's dedicate this blog post to how we think about choosing the right event and especially how we approach designing and organizing the event booth.
Event choice
By associating with a community or field, there are events you simply can't miss. Of course, one must always consider the event's relevance, meaning, focus, and outcomes compared to its investments.
In the Prague tech community, such a not-to-be-missed event used to be ReactiveConf, a 3-day programming conference with top-notch speakers and 1500+ attendees. Unfortunately, it didn't make it through the pandemic, like many other events. In 2022, the must-attend events for us were career days at ČVUT and MFF UK, the WebExpo in Prague, WUG Days in Brno, TechMeetups in Ostrava, and Silicon Milkroundabout in London. We always want to be part of events attended by our target audience, where it makes sense to not only promote our team (and our company in general) but where we can support our Mewsers in their speaker roles as well.
There's another important aspect to this, and that's the budget for such exposure and visibility. Conference partnerships sometimes appear too expensive (and sometimes they can be), but it's necessary to draw a comparison between event expenses, added value, and other costs. What I'm trying to say is that it's more complex. Presence at one event can bring several candidates into the company hiring pipeline for "free", which can save other costs, such as fees the company would pay to a recruitment agency. Comparing the event expenses to the salary of an individual contributor alongside presenting the added value of the event partnership could be another clincher for the decision-makers.
The history of Mews tech event booths
Our team doesn't have a long history due to our community management journey beginning in early 2019. We only had the rest of that year to attend events and get the most out of it. Because we had very limited time to prepare for all the events, conferences, and career fairs, our marketing team was our go-to for soaking up some inspiration. We entered 2020 with big plans, but unfortunately, owing to the pandemic, almost all the events got cancelled. We still had the opportunity to take part in online university career fairs, which we utilized. For this occasion, we prepared a profile of the company and our tech team. We also offered some 1on1 meeting spots for the attendees to get a chance to meet our guild leads or our CTO.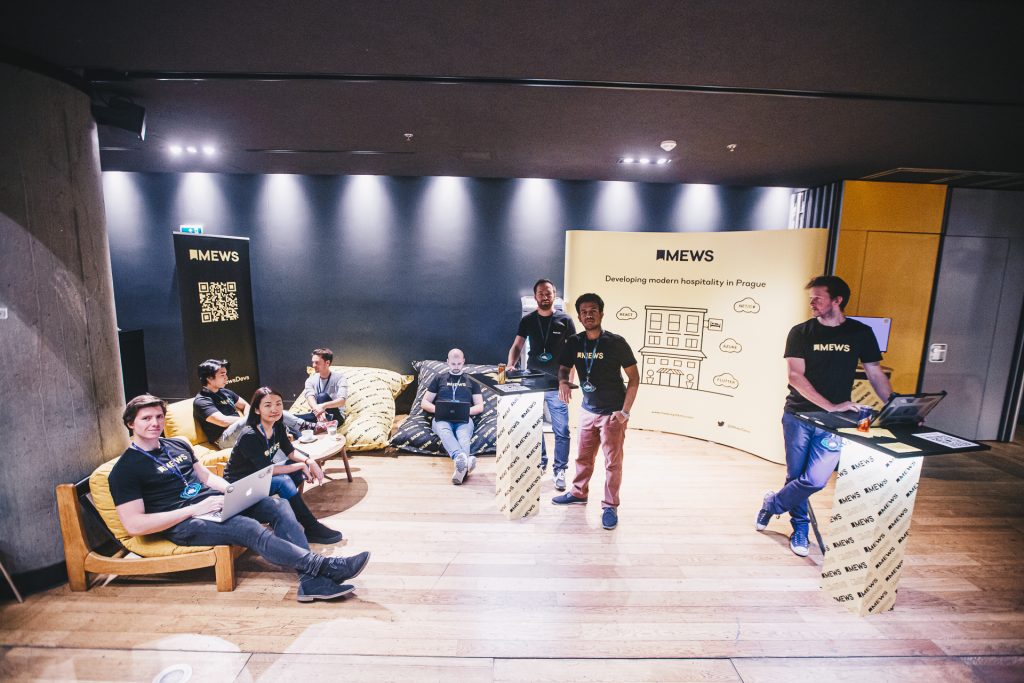 When everything returned to some kind of normal at the beginning of 2022, we started thinking both about the events we wanted to be part of and the theme of our booth(s). Of course, we were aware not all our ideas would be usable and serviceable for every single event as some have their own specifics regarding booth design, size, or position. Still, we wanted it all to be connected.
After two university career fairs where we reused the design from our marketing team, it was time to design our WebExpo booth. But first things first.
Our booth philosophy
After attending a few events in the exhibitor role back in 2019, we knew we wanted to differentiate ourselves from other companies. Of course, this might have been affected by the type of events we visited, but in our eyes, the usual event booth setup appears as follows: a pop-up wall and/or a roll-up, some kind of display, a table, and cool merch. That's not to say that we don't use the usual event booth setup, too, there's nothing wrong with that. Sometimes it's the easiest way to do it, other times it's just required by the organizer.
Don't get me wrong, there are companies out there that play with the booth design, attendee engagement elements, and in general, think outside the box to attract event attendees, but it's definitely not common. I guess it's because not every company has people dedicated to such employer branding activities, or they don't have the budget or time to plan. Luckily, that's not the case at Mews.
For us, there are five important elements when planning the event booth:
Location
Design
Something special
Overall visitor experience
Staffing
The booth location is something every "booth planner" is concerned with from the very beginning, as it also affects other aspects of the booth (planning). One simply wants to know what the surroundings will look like, what companies will be around, and how visible the booth will be.
Booth design is an integral element of every event booth because it's usually the first thing people roaming the exhibitor space see. It should stand out from other booths yet still somehow connect with the company brand. It comes hand in hand with that "something special", which could be something unexpected or extra.
For every event, we try to bring our "something special". It can be just about anything that completes the event in some way. Is the event missing a chill zone? Turn your booth into a lounge inviting event attendees to just sit down and relax. Does it seem like the event will be information-heavy? Bring in some fun elements and draw people to take their minds off the talks. Are food or drinks not provided? Offer coffee, tap beer, or some energy drinks. Of course, this has become quite the norm for start-up companies, but there's always space to set yourself apart.
Do you want to represent Mews at a conference?
Not so quick, join the team first!
In the past, our marketing team turned our booth at one of the biggest hospitality and travel events into a pitstop with race car outfits to show how pumped we are to pimp up hotels and get them ready for the hospitality of the future. On another occasion, the team prepared a "Mews Miracle Grow" booth to demonstrate not only that if you plant the right seeds, your customers will reward you, but that we view our system as the nutrient that enables organic growth. We simply want to show who we are. And not only from the product point of view but also from the company culture perspective. We're competitive and playful, yet ambitious, so why not show it to the world?
Last but not least, part of the booth planning process is staffing. From our experience with different tech events, career fairs, and conferences, the best scenario is to bring a diverse group of people able to cover various topics and provide more detailed information. Meaning, we always bring along someone from the tech team relevant to the event, someone from talent acquisition, and a member of our tech community management team. In terms of university career fairs, for example, it's great to bring current students or alumni. Simply people who know the audience, what to focus on, what information not to miss, etc.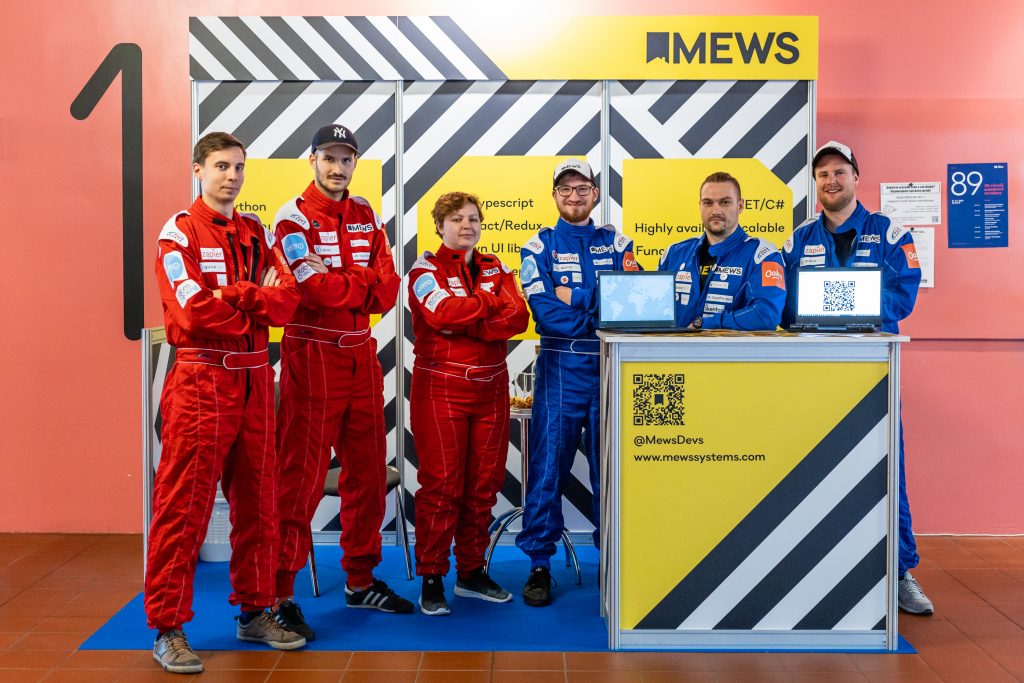 But let's take a look at a particular case, a use case of our 2022 event booth. We originally prepared this for the WebExpo conference and with some smaller or bigger adjustments, recycled it for other events this year.
The WebExpo booth
On March 12 of last year, Mews celebrated the 10-year anniversary of its foundation in 2012, and we decided to prolong this celebration and use the birthday party as a theme for our WebExpo booth. We knew one thing: we would bring something special (yes, you wouldn't expect that, right?). What we didn't know was what that something special should be besides all the birthday party trifles like some decorations and finger food. Then the idea came up – boom! – let's rent a claw machine!
After some unsuccessful attempts to rent the machine, we found one pre-owned and decided to buy it and use it for both external and internal events and occasions. As you can imagine, it didn't happen "just like that". There's a real story behind it. In the Czech community of community builders, as in every community, there are people who simply know everyone (hi, Láďa!). So I sent a couple of messages and got two proposals: a lease or the chance to procure our very own old-time claw machine. We agreed to say "no" to the first offer and "yes" to the guy who wanted to get rid of such a gem.
One ride to Kutná Hora and back to Prague later, the claw machine was standing in the RnD section of Mews headquarters. Once we transported it to our dedicated booth space and had it branded, we discovered that it had stopped working, but that's another story. We managed to get it running, and I dare say that bringing it turned out to be a great idea. We filled it with Mews merch, and after some time, the event premises filled up with people wearing Mews trucker hats sharing their fishing stories, which was exactly what we wanted to achieve. The cherry on top of the cake was that even staff from other company booths were wearing their catches from the machine.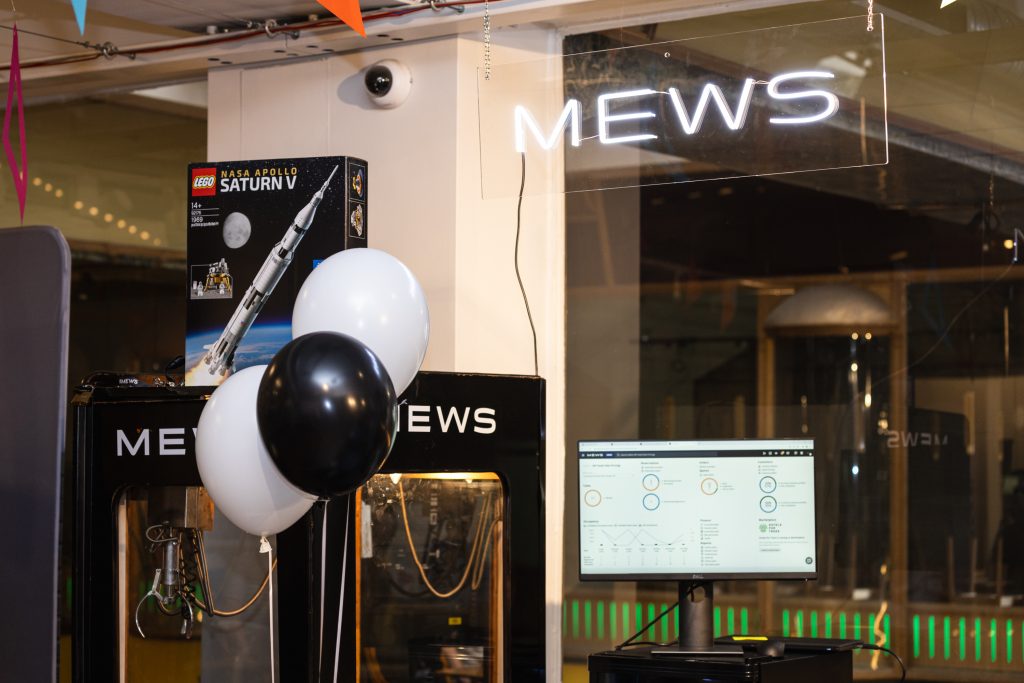 When it comes to the claw machine, there's one last thing worth mentioning. We intended to provide the complete experience with real money but didn't want players to worry about coins. Let's be honest – how many of you carry cash wherever you go? To use some kind of one-shot tokens wasn't an option either. The only chance to get the "right" amount of coins then was to go from bank to bank in the venue surroundings to get change from bank notes, which wasn't a big deal in the end. It turned out to be the last missing piece to the whole story of the first performance of our old-time claw machine.
There was one more machine at our booth: the Mews self-service check-in kiosk used by many of our customers (hotels, hostels etc.). The kiosk helps them reduce wait times at check-in and check-out and increase guest satisfaction, letting them independently check in, complete registration cards, or cut room keys. As part of a side project (we at Mews love them!), we tweaked it a little bit with our colleagues from the engineering team to be serviceable for tech events similar to WebExpo. As you can imagine, we needed something special to make it work for our purposes, the NFC cards that we eventually managed to get and print last minute in just one day.
When people checked in at our kiosk as they would to their hotel room, they entered our prize draw with the possibility of winning a mechanical keyboard built by one of our engineers, Vašek Kučera. He's not only our backend developer but also a mechanical keyboard fanatic. Here, you can again see how we try to connect it all – we are not robots, we are one team, people with unique passions and hobbies. That's who we are. We want to show everyone the people behind the Mews tech team. So instead of bringing JBL, we asked Vašek to build something special, which is somehow (although remotely) connected to Mews. Also, for our community management team, it was the smoothest way to gather emails from potential candidates.
Looking back at the booth setup mentioned above, we broke the usual conventions as we didn't place any branded roll-up or pop-up wall. Apparently, it worked, and it turned out we didn't actually need it.
As mentioned before, being happy with the set-up, booth buzz, and visitor experience we prepared for WebExpo, we decided to design the booths at our upcoming events similarly. We built an almost identical booth for London's Silicon Milkroundabout, of course with some minor adjustments. Obviously, we didn't buy another claw machine but rented one directly in London, which was super easy compared to the adventure back home. We brought our kiosk (and roll-up), served birthday cupcakes, and had a little lounge and enthusiastic staff. And once again, it was a success!
The takeaways
Let's close this blog post with a couple of tips from the Mews community management team:
Plan and keep calm

Time is uncompromising, and at some point, you'll definitely need to improvise.

Try to stand out

Go wild, don't be afraid to play, or prepare something unexpected that allows you to stand out yet show your company culture and values.

Involve your people
Make use of your product

Try to use your creativity to integrate your product if possible

Tell a story with your booth
Justify your budget

This one isn't always easy but try to compare your booth budget to something your audience would understand. In the case of tech events, it can be the budget for a developer's salary or recruiting agency fees.
Below you can find our tips ready for your use and sharing.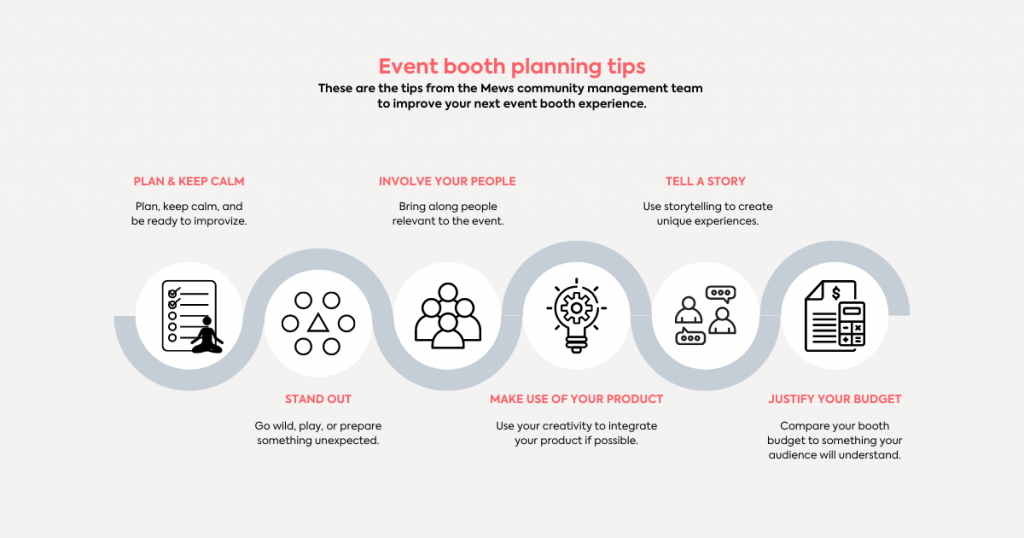 This blog post is based on my talk from the Community Chatter event where except for the event booths, Alena Osipova covered the topic of reactivating internal tech community after the pandemic, and Karolína Krámková brooded over if we really know our communities. You can watch the recording here.