When the old year ends and the new year begins, you see everyone reviewing what's been done and what's going to happen. I'm no different. I want to see what we, the Mews Tech Community Team, have accomplished in 2022. Of course, you know what happened. You were there. But scrolling all the way back to what happened in January is a great exercise that makes you appreciate the work even more.
And I'll be honest with you, I'm doing this mainly for the team and me to have a complete overview of the work done. But, at the same time, I plan to provide all the links for blog posts and meetup recordings and, more importantly, give credit to all my amazing colleagues who contributed to a more affluent tech community. So, it won't just be a random list of numbers that, without context, don't make sense to you or me. And I hope that everyone who's been following our work, as well as those just finding out about us, will benefit from this piece and find valuable and inspirational content.
73
But I will share one number that makes me very happy and proud. We, as community managers, are "just" the enablers, cheerleaders, negotiators, and producers. All the knowledge, experiences, talks, and articles need to come from (and for) the community we serve and are a part of. So the number I would like to share with you is 73. That's the number of people from the technical department who were part of this all in some capacity. They wrote blog posts, talked at meetups and conferences, engaged with the attendees at various tech fairs, and mentored or coached. They were interviewed for magazines and podcasts, gave lectures at universities, or built custom keyboards for the winners of our competitions. And just to put the number of people engaged into perspective, in January 2022, we had 108 people in the tech department and 183 at the end of the year.
On top of all the engagement from people in the tech department, the last year marked much tighter relationships and partnerships with peers across other departments. Mainly talent acquisition, product management, and design and marketing.
And for all of this, thank you. It's a pleasure working with you, and I can't wait for January 2024, when I will perform a similar exercise about 2023.
Disclaimer, when there is a 🍺 icon, it indicates that the piece is only in the Czech language.
January
Blogs
Talks
Misc
A new look for our event banners
It was time for a fresh look. Now it's also fully customizable using Figma, so we don't have to bother designers every time.
Started using Talkbase for our events and community
The tool for community builders is here, and we were proud Beta users who turned into full users! We love it, and we love the cooperation with the team and the speed of adjustments and help we get from them.
Datová analýza může být kreativní. Vyprávím příběhy pomocí čísel @Heroine with Markéta Lourenco 🍺
Regional partnership with Czechitas kicked off.
We supported one digital academy back in 2021, and the cooperation and purpose were so great that signing a year-long partnership was a no-brainer. Not only are you part of a positive change in the industry, but it gives our colleagues the huge added value of mentoring and coaching. It's rewarding to see that over the short period of our partnership, we were already able to hire three amazing alumnae!
Jiří Vinárek, Guillermo Kolremer, Danica Cortez, Markéta Lourenco & Vojtěch Kopal were mentors and coaches at the semester-long Czechitas Digital Academy: Data.
February
Blogs
Talks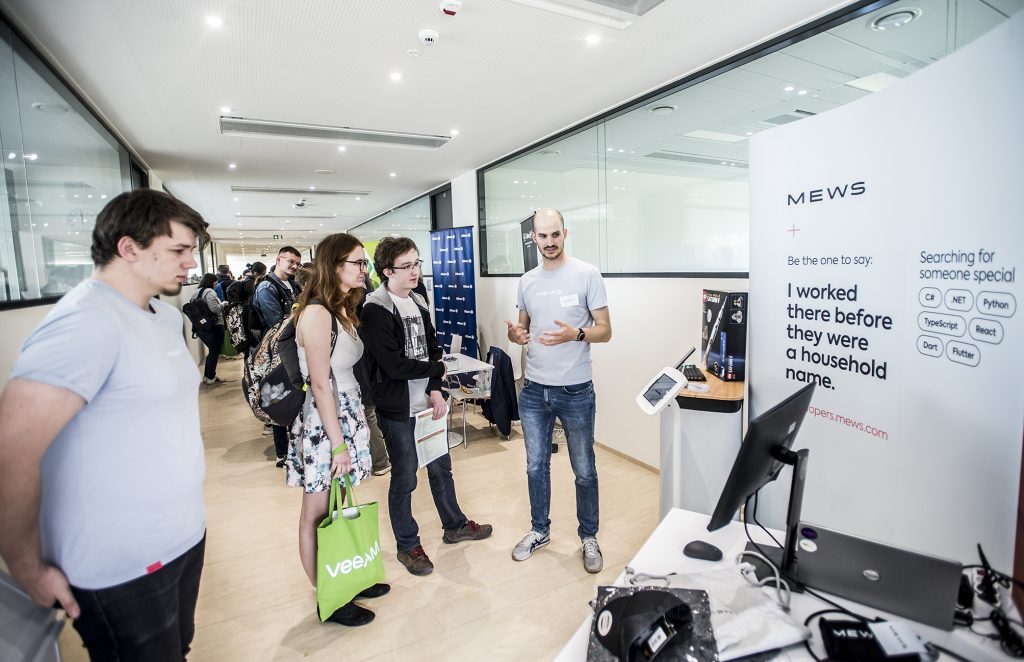 March
Blogs
Talks
Misc
A side project to "tweak" our check-in kiosk for interactive use at our career and conference booths. You can read more about it in September's NFC blog post. With Kirill Bubochkin, Natalia Bubochkina, Václav Šír & Michal Vacek.
April
Blogs
Talks
Misc
Job Fair at Matfyz with Vojtěch Kopal, Matúš König, Michal Vacek, Petr Bambušek, Fína Mádrová, Alexander Smirnov & Jack Lawrence.
Job Fair at ČVUT with Jakub Tkadleček, Marian Kamenišťák, Vít Samek, Gabriela Řehoutová, Jack Lawrence, Linh Le, Jan Tauš & Maksym Kriventsev.
Blog post workshop & documentation

We write a lot of blog posts… That's why, along with our external copywriter Alaa El-Shaarawi, we put together a workshop which we turned into an "open source" resource on GitHub for everyone to get inspired.
May
Talks
Svíčková sideproject @ Productboard Frontend Meetup by Aaron Barnett
Community Management workshop @ Holky z Marketingu by Gabriela Řehoutová 🍺
Firemní seminář @ Matfyz by Honza Široký 🍺
Misc
First tech family outing in Prague

Yep, we're not getting any younger, so one sunny afternoon we got together for minigolf, football golf, and beach volleyball. And it was up to you if you come on your own or bring your partner or the little ones.

Interview for UK Forum magazine by Jan Meissner & Josef Starýchfojtů 🍺
Purchased the famous claw machine

When you scroll down to December, you can watch the talk by Gabriela Řehoutová, where you'll find out more. But I have to say one big thank you to Lukáš Kratochvíl, who is always ready to come with his old van and help with big things that need to be brought from A to B.
June
Blogs
Talks
Roundtable discussion: How to find time for technical improvements @ Webexpo by Pavel Kalandra
Roundtable discussion: From developer to manager @ Webexpo by Jakub Tkadleček
Working in a product trio by Jakub Tkadleček, Aldair Borges & Zuzana Hrušovská
Misc
Booth at the Webexpo with Václav Šír, Václav Kučera, Kirill Bubochkin, Vitalij Vaščenko, Tomáš Rendl, Honza Široký, Marek Třešňák, Petr Bambušek, Alexander Smirnov, Jakub Šalmík, Aldair Borges & Natalia Bubochkina.

Big thanks mainly to Natalia, who is not only our amazing QA Engineer but also the resident photographer at most of our events.
Would you like to be part of this?
Mews is going into its 11th year of existence, and it's just the beginning…
July
Blogs
Talks
From Developer to Engineering Manager @ ECCEDU by Ondřej Heřmánek & Vít Samek
Misc
Mechanical Keyboard meetup hosted in the office. It may sound like a stretch to organize such an event, but… mechanical keyboards are a big part of our culture. When you're in the office, you can hear many different types of clicky sounds (and keyboard designs). It's mainly thanks to Václav Kučera, whose big hobby is talking about and creating these masterpieces. Thanks to him, we were able to have really cool gifts for visitors at our fairs and conferences.
Czechitas summer school for high school students by Linh Le & Markéta Lourenco. 20+ high school girls spending their summer learning to code paid us a visit, and we were happy to tell them a bit more about what it's like to work in a tech company.
August
Blogs
September
Blogs
Talks
Misc
A badminton tournament in Prague was won by Ondřej Heřmánek, but only because the former professional Jakub Bitman played just for fun.
Booth at the WUG Days in Brno with Václav Hanselka, Václav Kučera, Marek Třešňák, Vít Samek, Radek Zahradník, Petr Koutný, Martin Sušil & Gabriela Řehoutová.
Vojta Kopal, Zuzana Nedělková, Emre Karabulut & Iris Yip mentored at the semester-long Czechitas Digital Academy: Data.
Lucie Olmrová & Jakub Bitman coached at the Czechitas Digital Academy: Testing.
Jane Tetenova mentored refugees from Ukraine as part of Czechitas.
Hana Špačková & Lucie Olmrová participated in a Poznej Digitální Akademii by Czechitas to motivate other women to get into the world of IT.
October
Blogs
Talks
Misc
Booth at the TechMeetup Conference in Ostrava with Filip Maceček, Filip Pindej, Václav Ryška, Jan Serafín, Miroslav Veis & Lukáš Bechný.
November
Talks
Misc
Booth at the SiliconMilkroundabout London career fair with Ayman Soliman, Jack Lawrence, Dominic Blythe, David Black, Chris Thorp, Daniel Brezoi, Tatiana Kurenkova, Isabel Ruiz, Andrew Star, Anita Cairns, Naomi Voet, Megan Kemp & Jakub Šalmík.
December
Blogs
Talks
Misc
Extended our junior.guru mentoring workforce. We've been part of Honza Javorek's community for a while now. It connects people who want to get into IT with experienced engineers and other IT professionals. We offer mentoring opportunities to anyone who wants to get better at specific topics or understand if working in tech is the right fit. With Daria Doronina, Markéta Lourenco, Jakub Šmagin, Jan Hrubý, Jiří Šteidl, Jan Tauš, Václav Ryška, Jakub Bitman & Linh Le.
What's next?
OK, this exercise was a bit longer than I expected, and I hope I didn't forget anyone. The role of those working with communities should be (in my opinion) connecting, enabling, cheerleading, and negotiating. I'll talk about this more in another post, hopefully.
But what's ahead of us in 2023? What do we have to look forward to?
We have strong foundations of what we, as a community, represent, what topics are close to our hearts, and what we want to achieve. And even if there were a couple of events outside of Prague, you can see that we've still been very much active in the Czech capital. And it makes sense. It's where we come from as a company and where we still have the majority of our tech department. However, this is changing, and with that, so are our plans for 2023. We'll still have most of our events here, but more and more will be in regions where we have an ever-growing presence. Specifically the UK, Spain, Netherlands, Croatia, and other cities within the Czech Republic.
Another thing is to support people to attend conferences both as speakers and as "just" attendees. It's not something that we've been doing much in the past couple of years. And in cooperation with the engineering leadership, we want to broaden the horizons, knowledge and connections of our colleagues. Along with that, one big topic for the upcoming year is customer centricity. We need to find more ways for engineers, analysts, and scientists to get to know and meet our clients and hospitality professionals both inside and outside of Mews.
So now you know what we accomplished as a community last year and what's in store for this one. Are we going to see you in our 2023 edition? 👀